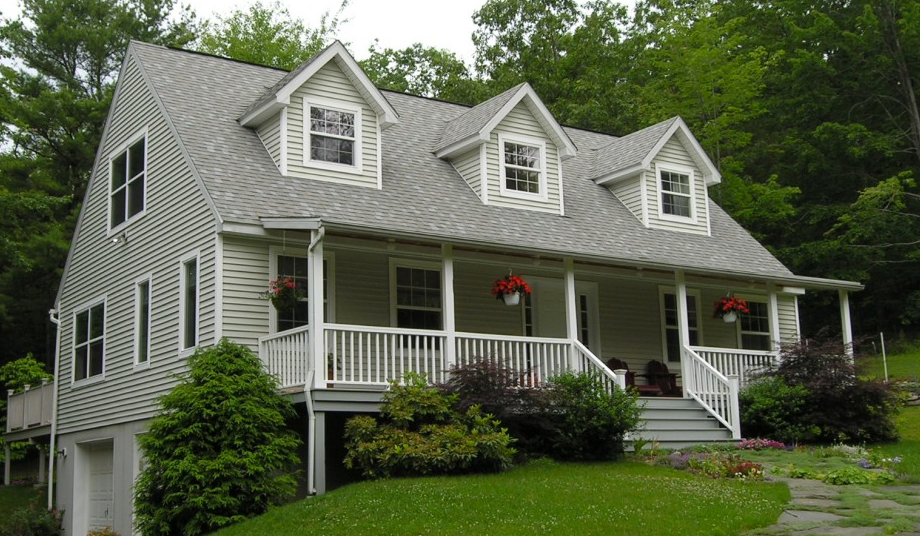 Dormers are architectural elements that are typically used to add extra space or light to the attic, second story or loft of a home. They accomplish this by protruding outward from the sloped roof of the main structure. There are a number of different styles of dormers available, ranging from small eyebrow dormers that are used primarily to add light, all the way up to shed dormers, which are often used to add large additions to an attic space. Dormers offer a number of advantages including the following:
Expand Your Space
If you have a one-and-a-half story home or a home with an unfinished attic, dormers are the perfect way to expand your space. One of the main problems with attics or half-story floors is that the edges of the roof drop so low that a large portion of the space lacks adequate headroom.
Dormer windows help solve this problem by increasing headroom at the edges of the space. This is a relatively inexpensive way to dramatically increase the functionality of the space. Instead of having to duck down any time you approach the edges of the room, you can stand up tall and comfortably use the space.
Add Light
Another problem with attics or lofts is that they often lack windows. This can make them feel dark and confining. Dormer windows help open up the space — not only by raising the height of the ceiling, but also by bring in light through the addition of windows.
Many homes place multiple rooftop windows along the entire length of the roof as a way of bringing a great deal of light into the space. If you are on a tight budget, you can even use small eyebrow dormers to add a bit of light to the space without having to undergo major renovations.
Improve Your Home's Curb Appeal
Another major advantage of dormers is that they typically add architectural interest to your home, which in turn can improve its curb appeal. This can not only make it easier to sell in the future, but can even help increase its resale value.
People love homes that have interesting architectural details. By adding dormer windows to your upper floor, not only do you create more usable space inside your home, but you also help it look more beautiful from the outside. Just make sure that you choose dormers that are a good match for the existing architecture of your home.
Dormers can be a fun way to make your home more functional and attractive. Whether you want to increase the amount of space and headroom on your upper floors or want to bring more light into the space, these simple additions can help you accomplish your goals.
Finally, if you are looking for an affordable way to improve your home's curb appeal, adding on dormers could be the perfect solution. Just be sure to talk to a qualified architect before undertaking any renovations to make sure that the dormer style you choose is a good match for the existing architecture of your home.
If you are planning on adding dormers to your home please don't hesitate to call
(631) 620-3435

for a Free Estimate

Visit http://www.cslongisland.com/contractors/dormers.html for more information on Dormers!

C&S Long Island Contractors Dormers Specialist